Deciphering Driver History Data from Across the United States
In 2020 there were 228.2 million drivers and 42,060 fatal car crashes in the US. With that many people on the road and at risk of potential accidents, there are precautions organizations can perform when assessing associated driver risk. That's where driver history data and motor vehicle records come in.
Why are Motor Vehicle Records (MVRs) Important?
Motor vehicle records give organizations perspective into an individual's driving performance through their history of traffic tickets, driving under the influence, accident reports, restrictions, vehicle-related crimes, driver's license information – such as the classification or amount of points the individual may have.
Driver history data can be insightful. According to The American Transportation Research Institute, there are specific driving behaviors that may indicate a likelihood of future crash involvement.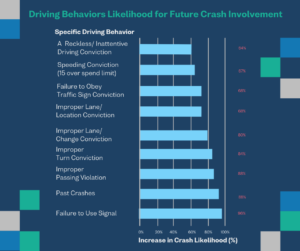 The findings above are from The American Transportation Research Institute.
What to Expect When Searching Driver History
              Key Elements of MVRs 
              Motor Vehicle Records may have:
Name and address

Driver's license type and status

Driver history (prior licenses, convictions, suspensions, or withdrawal) 

Accident history

Medical certification, past restrictions, and extra-state details 
To break it down even further, there are moving and non-moving violations along with major and minor violations.
Moving violations occur when there is a traffic law violation by a vehicle in motion. Examples include: 
Speeding

Running a stop sign or stoplight

Driving under the influence (DUI)
Non-moving violations, in contrast, are infractions that violate the law but are not directly correspondent to driving the vehicle, for example:
Major violations are more notably severe events, examples include:
Leaving the scene of an accident

DUI 

Reckless driving

Attempting to elude a police officer

Manslaughter involving the use of a motor vehicle
Minor violations are less serious than major violations but can provide insight into driving habits and repetitive behaviors. Some examples include:
Navigating the Intricacies of MVRs
Driver history reports are complex data sets that have dissimilar structures, varying in language, terminology, and information across jurisdictions. While collecting this information in a timely, cost-effective manner is already a daunting task, organizations also have the additional hurdles of analyzing and understanding state-level interpretations of different licenses and associated data.   Having a better understanding of the level of risk associated with a driver's license status can improve the time and accuracy associated with interpreting results and thus provide confidence in decision-making. 
Examining Driver Insight for Better Decision-Making 
Decision-makers use a candidate's driver history to conduct a risk analysis. 
Companies decide how to group driver statuses for their applicants and employees based on the organization's established MVR policy.
These policies may use a system that consists of brackets such as: satisfactory, probationary, and unacceptable. The Society for Human Resource Management released the following example of a classification system:
Satisfactory –
If the driving record indicates no more than one moving violation in the past 12 months, 
then an individual is eligible to drive while conducting company business. 
Probationary –
If the record indicates more than one moving violation in the past 12 
months but no more than two moving violations in the past 24 months: an individual is eligible to drive while conducting business;  MVR is checked on a regular basis during the probationary period. 
Unacceptable –
More than two moving violations in the past 24 months; individuals may be considered non-eligible for driving privileges.